Alessio B. / Street Artist
BIOGRAPHY
Born in Padua (IT) Alessio-B is a street artist who creates unique scenes, often with a message of peace and love.
It all started during his years of architecture study in Venice and his numerous trips to Europe, between Paris and London, where he gots to know the works of Blek Le Rat and Banksy. It doesn't take long for them to influence his style and his willingness to take the road to the world of street art.
Alessio-B has collaborated and exhibited his work with numerous art galleries in Italy and in Europe and the rest of the world, also starting collaborations with influential big brands.
2013 Venice Biennale – Back2Back event dedicated to street art.
2014 LaFayette PARIS Galleries – Presentation Trolley Roncato by Alessio-B
2014 Gallerie Barbette PARIS (FR) – Personal
2014 NUNC Galleries Grenoble (FR) – Personal + book presentation
2014 WATH_AAH! TAKING BACK THE STREET New York (USA) – Collective
2015 URBAN NATION "CUT IT OUT" Berlin (GER) – Collective
2015 GRAFFIK GALLERY London (UK) – Collective
2015 NICOLE HENRY ART GALLERY – Palm Beach FLORIDA (USA) – Collective
2015 BUGNO ART GALLERY Venice (IT) – Personal
2015 RAKTING ART GALLERY (JAPAN) – Collective
2015 Gallerie V.SMAGGHE Paris (FR) – Personal
2015 NUNC Paris Galleries (FR) – Personal
2017 RENNES (FR) "ILOVERENNES" Personal
2017 URBANWALLS Rome (IT) Collective
2017 LOLLAPALOOZA URBAN FESTIVAL BERLIN
2017 URBAN NATION – MUSEUM STREETART BERLIN (permanent artwork at the museum)
2019 VALVERDE GALLERY – Brussels
2019 ART FAIR ELISEE Paris
2019 Biennale StreetArt "SUPERWALLS" Padua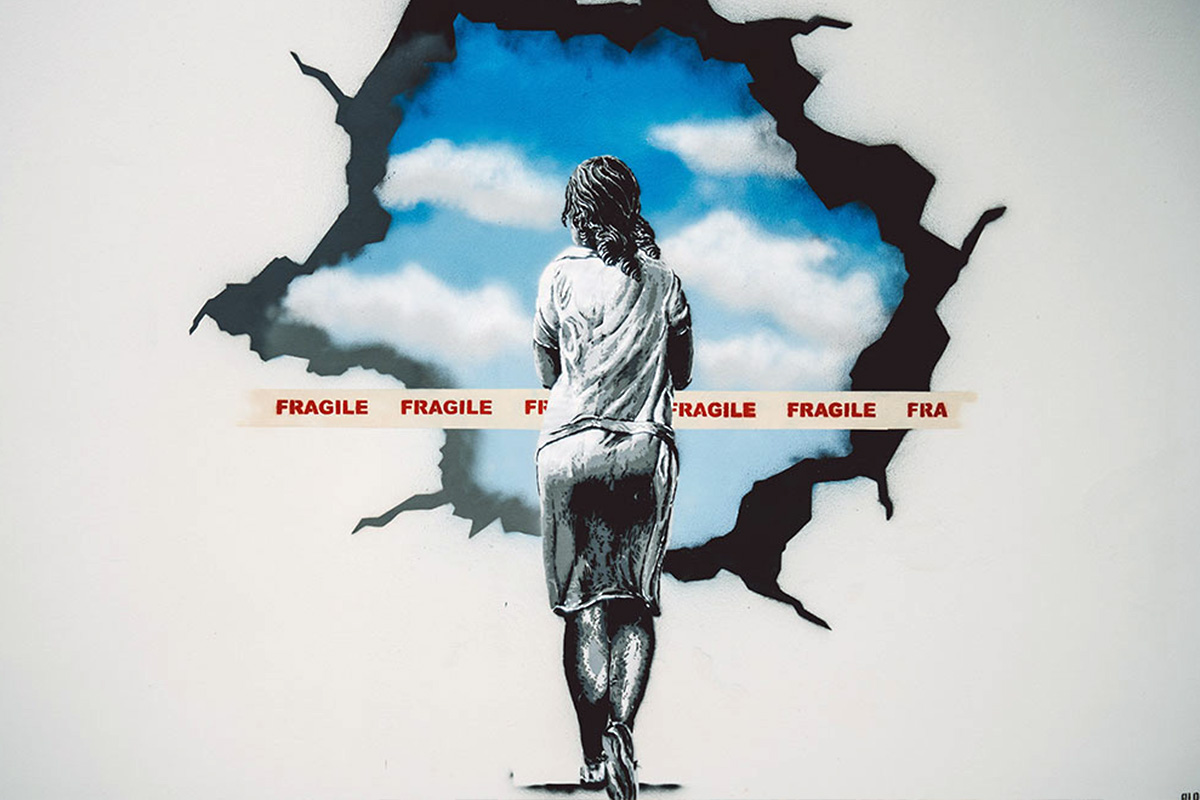 Clubino and Clubino Art – This year the Clubino restaurant is completely renovated on the outdoor terrace, a sophisticated space where design and art mingles to create a unique space to indulge in the pleasures of life.
FRAGILE the mural created by street artist Alessio-b decorates the wall of the Clubino Art terrace.
"Everyone values you for what you look like. Few understand what you are… " N. Machiavelli
Beyond the (fragile) ribbon is the hole in the wall that represents what you are.
Few people really know who you are…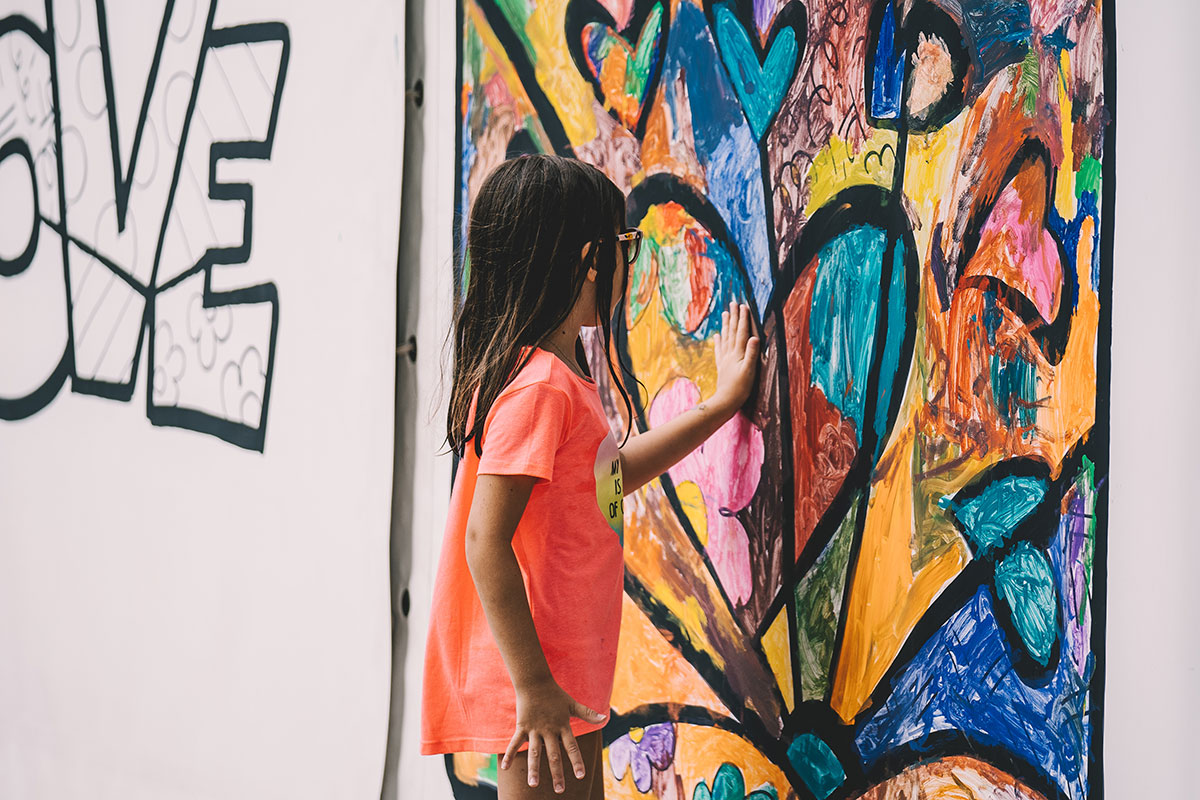 CREW ART (street art at work) – The animation space is transformed into a backdrop for the creation of a "mural" that will be created step by step throughout the summer season, with the participation of street artists and the involvement of guests who will be able to participate in the realization of the work and enjoy an artistic experience on the field. Romero Britto, the Brazilian neo-pop artist, and Keith Haring, the icon of the New York City street art, are the two artists chosen to inspire and engage the young guests.
"I wanted intensity from my art and I wanted intensity for my life.
I had begun to be interested and fascinated by the graffiti I was seeing in the streets and in the subway. Graffiti were the most beautiful things I ever saw.
I want to let people experience art without having to feel inhibited"
– Keith Haring's Diaries
All the news from the Malibu Beach Village. Discover the updates in real time in the News section.
Fun by night is guaranteed! From 8.30pm to 11pm this evening, the swimming pool area of ​​the Malibu Village will host an exciting and unforgettable pool party. The DJ set will begin at sunset, as in the

During the summer vacations, keeping fit, in a gentle way and in a stimulating context, can be the best way to relax and recharge your batteries. A trained and toned body will make us feel better, from every point of

From the top of the deck of a yacht moored in the port, everything is different. The same in the harbor, in the middle of a bay. Perceptions change: people strolling while enjoying an ice cream along the piers appear