Simona Favrin / Architect, designer and landscape architect
BIOGRAPHY
Passionate and expert in artistic glass, with in-depth knowledge of the subject, methods and techniques of glass production, applied in glass design, in the care of exhibitions and in the design of promotional and exhibition spaces.
She deals with the design of internal and external spaces, with a predilection for the design of greenery and water and creating fountains and installations in which she experiences the combination of water-glass.
Particular attention is paid to the emotional impact that design has on people: the common thread of its creations, which range in the different fields of everyday life, is the use of art and design, intended as tools and occasions for expression of mankind and understanding of the time and place where we are destined to live.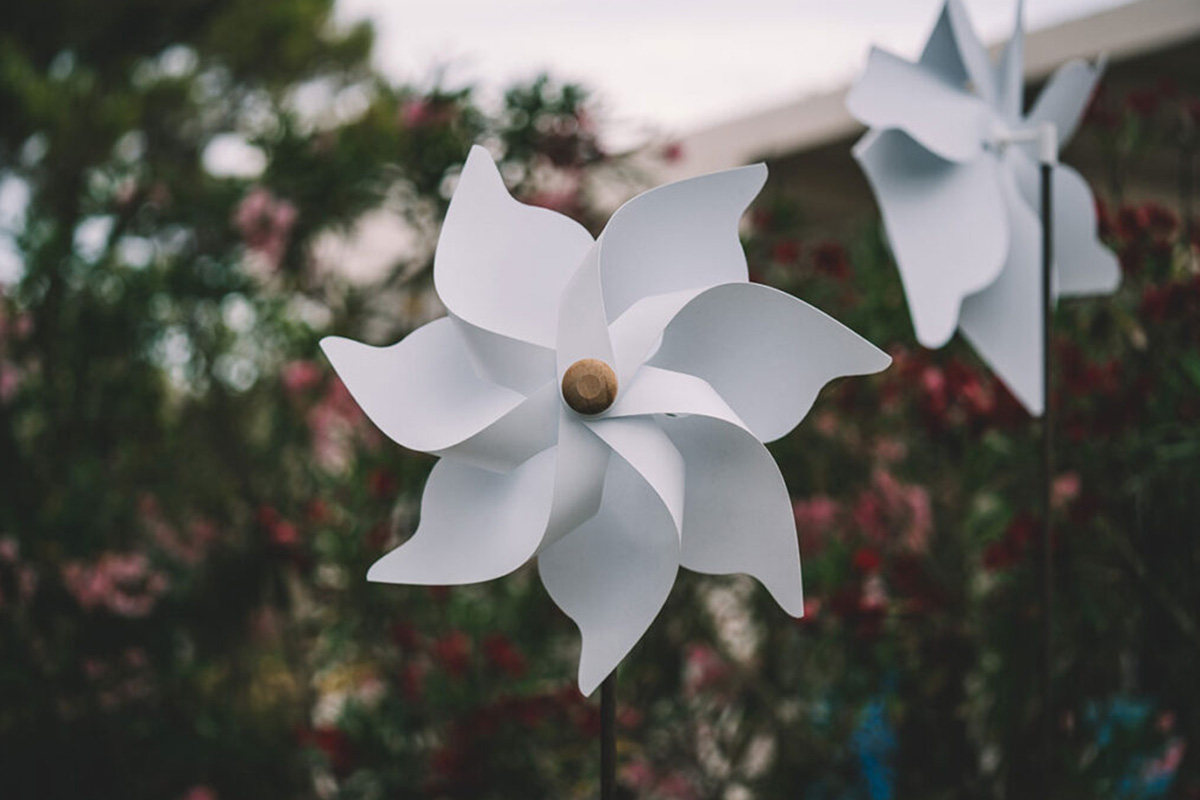 White Wind – In the innermost area, adjacent to the restaurant, an area dedicated to camper parking has been created. The landscape design has modeled the environment with artificial dunes that create spacious and wide pitches, ideal for enjoying the intimacy of the place by offering a large space of Open Air privacy.
"White Wind" is an installation that develops along the 60 meters of the artificial dune that runs along the avenue that leads to the sea: among perennial herbaceous plants, shrubs and ornamental grasses, white pinwheels dance to the rhythm of the sea breeze, harmoniously inserting themselves into the game of colors and movement.
The seafront oasis overlooks the golden sand of the Jesolo coast.
In this area, the landscape design shapes the golden sand of the territory with curved and soft lines, to create artificial dunes on which shrubs, ornamental grasses and perennial herbaceous plants recreate the colors and movement of the coastal dunes, moving naturally to the blowing of the wind and swaying together with the white butterflies fixed on harmonic steel stems inserted between the dunes.
The "Flight of wings" installation curated by Simona M. Favrin with e-gardening develops on the dunes that protect and welcome the beautiful terraces of the new seafront Mobile Homes.
All the news from the Malibu Beach Village. Discover the updates in real time in the News section.
Goodbye summer, see you soon! The summer has flown by at Malibu Beach Village. The music, the smiles, and the experiences we shared together still resonate in our minds. A special thank you goes to all guests who chose to spend their

In the enchanting setting of Malibu Beach Village in Jesolo, Ferragosto turned out to be an explosion of joy and adventure for all participants. This charming summer paradise hosted a series of thrilling activities that captured the enthusiasm of both

The 2023 season starts with good taste. At the Malibu Beach Village restaurant, guests can savor the specialties of chef Andrea Gariboldi, who will combine tradition and experimentation in typical dishes of Italian cuisine. Fresh and light dishes, in tune