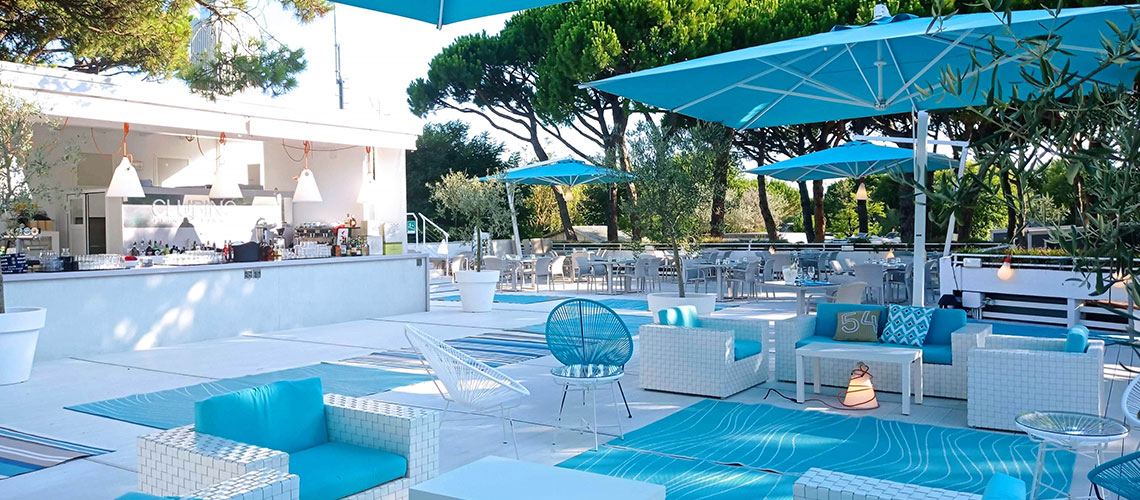 Malibu Beach, gourmet food, wine and artisanal beer in the Urban Art Oasis
In the Urban Art Oasis of Jesolo the best of Italian and international food, wine and beer is here for you. The Malibu Beach Village offers its guests a rich range of novelties in the food and beverage offer to satisfy the most demanding palates with gourmet options.
The Malibu Beach restaurant changes its look and offers the guests of the Village the very best of Italian and international food, wine and artisanal beers. This year the new management of the Malibu Grill, entrusted to the experience and creativity of the food and beverage manager Andrea Crimi, offers a menu that has its roots in the Mediterranean tradition, enriching it with the gourmet suggestions of international cuisine.
Quality is at the core of the à la carte menu and of the wine and beer lists. Among the wines we find the best of the Italian tradition with the DOC (controlled designation of origin) and IGT (indication of geographical typicality) designations and the great wines of the international scene. Among the beers, space for the most loved names in Italy and abroad, but also for craft beers, with unique flavors. Find out here some of the best proposals of our sommeliers.
Gourmet creations, spotlight on the Clubino
The Malibu Grill in this new season opens its doors on the terrace: as the sun goes down, the lights on the Clubino turn on. The reserved area, accessible by reservation only, will allow guests to try the special proposals of the executive chef Pierpaolo Mantello and the sommelier. A special dinner, a journey into taste to be experienced in a magical atmosphere under the stars.
Special attention will also be paid to our guests with special dietary needs due to intolerances and allergies. You can consult here the 2021 price list for all the selected options.
Have you already booked your Malibu Beach Village vacation? The Malibu Grill staff awaits you for a journey in the land of the best cuisine in the world.